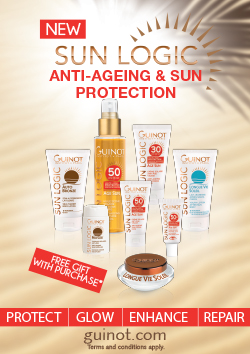 INTRODUCING: OUR BRAND NEW ANTI-AGEING SUN PROTECTION RANGE! News valid until 01/07/2018
The range consists of 13 key protecting and repairing products!
More than just sun protection, this collection compensates age deficiencies to preserve the skin's beauty and youth with cutting-edge technology. Sun protection has advanced over the years from mineral sunscreens (e.g. titaniumoxide) that offered simple protection from sunburn, to chemical sunscreens that were invisible on application and avoid the thick white texture often associated with mineral sunscreens. Now, we see a new age of smart tanning where the system of SPF is redefined to take into account exposure duration and phototypes - making sun exposure safer. Today, Guinot introduces to the world, SUN LOGIC, the most advanced sun care formulation to not only protect the skin from the harmful effects of UV rays but to also protect the skin from photo-ageing, and blue light exposure that causes DNA damage and consequently, accelerates the ageing process.
Key Ingredients:
Melanin/Lutein: Reproduces the skin's natural defence mechanism when exposed to the sun by offering additional protection against UV rays and blue light.
Sun Filters:Provides a wider protection against UVA and UVB rays.
DNA: Applied to the skin's surface, this agent is targeted by UV light rather than our epidermal DNA. It is a synthetic molecule composed of amino acids to create a protective barrier.
Elastoprotectin: A protein that prevents elastic fibres from becoming rigid. It helps restore balance between the different constituents of elastic fibres, adversely affected by exposure to UVA rays, and provide protection to prevent skin slackening and wrinkle formation.
FREE AFTERSUN WITH EVERY PURCHASE OF OUR NEW SUN LOGIC RANGE* – IN SALON NOW!
* Terms and Conditions apply.