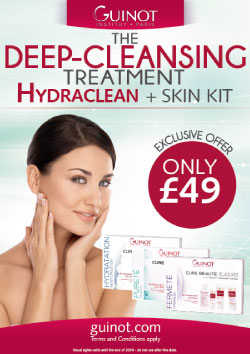 EXCLUSIVE FACIAL OFFER News valid until 19/08/2018
For a limited time only (New Facial Clients only) – book in for a Hydraclean, our deep-cleansing facial (30 mins) and 15 days worth of our homecare products to try for just £49.
The Facial
The thermal action of the Thermoclean electrode and the application of the purifying and cleansing gels within this facial will allow for deep cleansing, riding the skin of impurities. It is the only cleansing treatment that acts simultaneously on both swear and sebaceous glands. You will be left feeling relaxed with radiant, glowing skin.
The Homecare
Our 15 day cure skin kits provide 15 days worth of product for you to use at home following your facial. After your facial, your therapist will prescribe you the kit best suited for your skin type and skin concerns.
Call us to book in now!