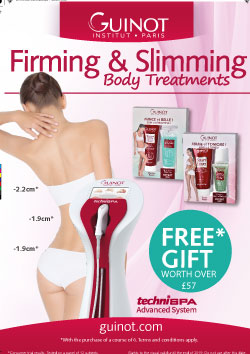 FREE GIFT WITH FIRMNG & SLIMMING BODY TREATMENTS News valid until 20/05/2018
Book a course of 6 TechniSPA Slimming Anti-Cellulite treatments or a course of 6 TechniSPA Thermo-Relax Firming treatments and receive a gift with the complementing aftercare products worth over £57 for free!
Our TechniSPA Slimming Anti-Cellulite treatment is quick, effective and long-lasting! This treatment is used to reduce cellulite all over the body, whilst focusing particularly on critical areas such as the waist, hips and thighs.
Our TechniSPA Thermo-Relax Firming treatment combines 3 simultaneous firming actions to reshape the figure comfortably.
Both treatments are performed using our TechniSPA Advanced machine.
What does your free gift include? You will receive the body kit that complements the treatment you choose and your personal body goals.
The Firming Kit includes Sculpt Expert (full size), a reshaping and firming body cream & GommagePeauD'Orange (50ml) body scrub.
The Slimming Kit includes MinceurRapide which reduces the appearance of cellulite and refines the figure & Gel Douche Minceur (100ml), a slimming shower gel.
Terms and Conditions apply. Offer valid from 2nd April -20th May 2018.