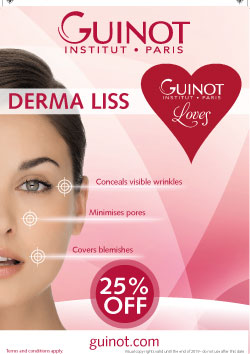 Guinot Loves Créme Derma Liss <3 News valid until 20/05/2018
We class this as one of our unsung hero products, it is a face care treatment that conceals wrinkles and enlarged pores for a more youthful appearance. The skins texture and appearance is instantly evened whilst the cause of wrinkles and enlarged pores are tested – leaving the skins surface purified and smoothed for a flawless complexion.
Receive 25% off until 20th May 2018
Terms and Conditions apply. Offer valid from 2nd April -20th May 2018.