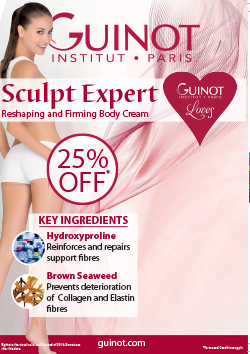 Guinot Loves Sculp Expert News valid until 01/07/2018
Sculpt Expert (RRP £50.25/€55.00) helps to firm and repair the skin tissue deep down to help create a firmer figure.
For some women sagging skin is a main concern especially around the arms, bust, thighs, buttocks and abdomen. Sculpt Expert is a double action cream aimed at firming and toning to help give those areas an added lift.
It contains Hydroxyproline to boost the syntheses of collagen and Brown Seaweed to help prevent the deterioration of collagen and elastin fibres that make up the skins structure. Day after Day skin appears smoother and firmer. With continued use elasticity, firmness and tone are renewed with the overall quality of your skin visibly improving.
Coupled with a good diet and an active lifestyle this should be recommended to clients to help improve body firming and toning for those summer months!
Receive 25% off until 1st July 2018
Terms and Conditions apply. Offer valid from 21st May - 1st July 2018