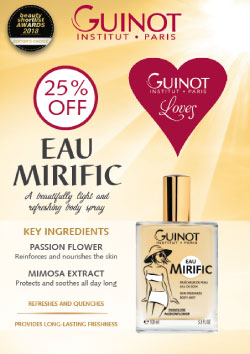 Guinot Loves Eau Mirific News valid until 19/08/2018
Eau Mirific (RRP £44.00) is a beautifully light and refreshing body spray that evokes sunny summer days and balmy evenings eating al fresco. This gorgeous body mist leaves skin feeling fresh, moisturised and smelling simply divine, with scents of Orange Blossom, Jasmine and Vanilla this body spray offers the very essence of femininity.
Key ingredients include soothing and seductive Passion Flower Oil, rich in essential fatty acids, which reinforce the skin's barrier and restores the skin's acid mantle, leaving skin nourished and supple, while Mimosa Extract contains many trace elements, flavonoids and tannins to protect, repair and soothe the skin, and adds a sweet floral scent with woody undertones.
A sunny, sparkling fragrance that ensures long lasting freshness, spray on the entire body throughout the day as needed.
Receive 25% off until 19th August 2018.
Terms and Conditions apply. Offer valid from 2nd July – 19thAugust 2018.