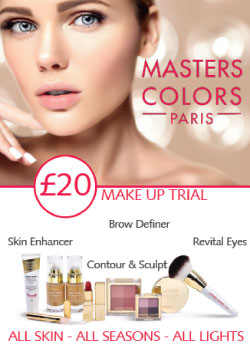 £20 Make Up Trial with NEW MASTERS COLORS News valid until 04/03/2018
With a new make up range and a new concept why not book yourself in for a 20 minute make up trial and learn all about the new collection!
For just £20 book in for a make up trial focusing on one of the following:
-
Skin Enhancer
– learn how to get the most out of your complexion and how to create the perfect blank canvas for the rest of your make up
-
Brow Definer
– brows can make or break a make up look, we can teach you how to make it!
-
Contour & Sculpt
– Contouring has hit the make up world by storm and isn't showing any signs of disappearing any time soon, don't worry though – we can teach you all you need to know!
-
Revital
Eyes
– we can help you create a
personalised
look to make your eyes pop!
Redeem the £20 you paid on product at the end of your trial!
Terms and Conditions apply. Offer valid from 12th February 2018 – 4th March 2018.