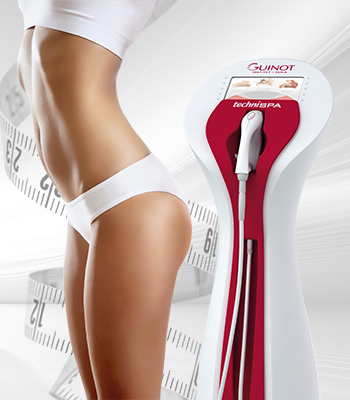 Technispa
About Technispa
The revolutionary professional Technispa® method reduces the appearance of cellulite, resculpts the figure and refines the contours.

Slimming Anti-Cellulite Treatment
Sculpts the figure and smooths cellulite on the entire body The Technispa® Anti-Cellulite Slimming Treatment can be used to reduce the appearance of cellulite all over the body, while focusing particularly on critical areas such as the waist, hips and thighs. The treatment begins by applying the Anti-Cellulite Slimming Actiserum. Then Technispa® is used to carry out a series of maneuvers on areas of concern to smooth cellulite and resculpt the figure.
The treatment can be suggested as a course that your Beauty Therapist can customize for you.

Targeted Slimming Treatment
Refines the contours of the body and smooths cellulite in specific areas The Technispa® Targeted Slimming Treatment is an effective and ideal solution for women who wish to rapidly and visibly slim specific areas of concern. This targeted treatment can be used as an intensive treatment course or as maintenance sessions.

Firming and Remodeling Treatment
Body Firming Treatment
The Technispa® Thermo-Relax Firming Treatment combines 2 simultaneous firming actions to reshape the figure comfortably.
The treatment begins by applying the Thermo-Relax Actiserum. Then Technispa® is used to carry out a series of maneuvers that focus primarily on the thighs, waist, back, back of the neck and arms to
tone and firm. In addition to firming, the constant heat-diffusing function provides a feeling of well-being and relaxation.

Light Legs Treatment
Refines and restores comfort to the legs
Ideal for people who suffer from discomfort of the legs.
The Technispa® Light Legs Treatment combines 2 simultaneous actions.
Due to the effectiveness of the Technispa® maneuvers combined with the active ingredients contained in the Actiserum, the legs feel light and refreshed in just 30 minutes.

Secrets Behind The Treatment
The exceptional performance of Technispa® treatments is due to the combination of two specific and simultaneous technologies:

1. Double Dermo Lipo-Aspiration
In just one technical movement, the massage handle performs two slimming movements. Lipo-aspiration draws in the skin so that two folds of skin appear, doubling the treatment's effectiveness in the same treatment time. Effectively simulates the remodeling and sculpting movements of manual methods.
Patented system.

2. Thermal Slimming Effect
The heat-diffusing process softens fat on the skin's surface and increases the skin's microcirculation to refine the contours.