Meet the Team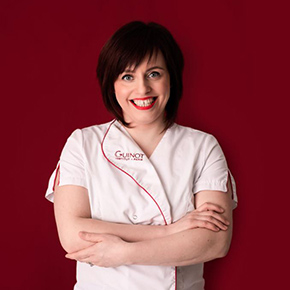 Justyna Rostek
Beauty Director
Justyna is a highly qualified Beauty Therapist with over 15 years' experience working within the beauty industry. Her advanced skincare knowledge & attention to detail derives from many years working in high-performing salons along with a passion for making people feel good in themselves.

She first trained with Guinot in 2006 and worked in various salons across London before becoming the manager of Guinot's flagship salon on Albemarle Street, Mayfair. At Albemarle she treated a portfolio of high profile clients, celebrities and journalists and always prided herself on delivering the highest service standard, ensuring each experience was bespoke and tailored to that individual's needs and beauty objectives.

Building on the 12 years of Guinot experience Justyna has been customising most of her facials. With this in mind her pricing is based on the time you can dedicate rather than strict treatment protocols.
Discover 1HR Bespoke £115
Energise 1.5HR Bespoke £159
Transform 2HR Bespoke £210

"As I'm a skincare specialist, it warms my heart to see clients gain more confidence with every visit and finally feel comfortable in their beautiful new skin."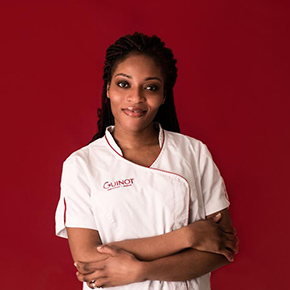 Benith
Beauty Therapist
Back in 2016 she visited the salon on a college trip and fell in love with Guinot. She has since gained her NVQ3 qualification and worked hard in salons and spas around South West London improving her skill set.

Her favourite treatment is the Hydraclean facial. When first trained in this treatment, she couldn't believe that in only 30 minutes, skin can become so much more clear and radiant looking.

Benith's favourite product is the Uni Bronze that combines anti-ageing, SPF20 protection and unifies complexion. 'It's very hard to find a great sun protection that doesn't make my skin look washed out and leave a chalky residue. I wish I found it sooner!'

Her beauty superpower: waxing in a flash!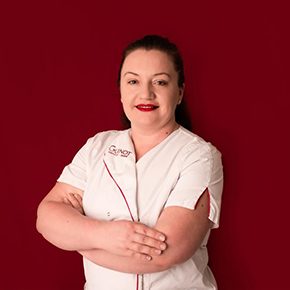 Hanna
Beauty Therapist
Hanna previously worked in the public health care sector. She gained her NVQ3 qualification as a therapist in 2016, after discovering that she enjoyed caring for people and making them feel good about themselves.
Self-professed massage queen. Hanna loves seeing clients relax and let their problems melt away. Believing in the healing power of touch and the importance of good energy as she previously trained in beginner's reiki.
Her favourite product is Huile Mirific body oil for its nourishing power without feeling greasy. 'I love running it through the ends of my hair to repair, hydrate and keep it smelling beautiful.'
Cheerful and bubbly demeanour with gentle touch.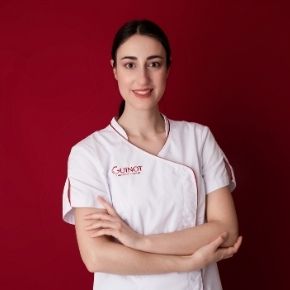 Sandy
Head Therapist
Sandy has a Bachelor's Degree in Aesthetics and Cosmetology, educated in subjects areas such as Dermatology, Face and Body Treatments, Lymphatic and Relaxing massage.
She started her career in one of the best 5*hotels in Rome Italy, Westin Excelsior Hotel, where she gained experience in an exclusive and rigorous environment. She continued working at various Spas in Greece including 5* Myconian Collection Imperial Hotel, Mykonos Greece. Decided to move to London to find her dream job.
Qualified in working with clients touched by cancer and in survivorship.
Firm believer in focusing on delivering consistent costumer experience and exceed client's expectations.
She feels blessed to be able to join the Guinot team in such a roller-coaster pandemic year.
Her favourite product is Gommage Biologic Exfoliating Gel, as the results after trying it were amazing. "The change in texture from gel to oil is just magical, my skin feels so smooth after using it".
Fun Fact: her full Greek name is Xanthippi, which in ancient Greek means 'blond horse'.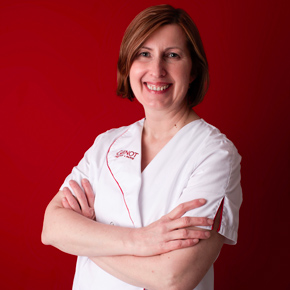 Kasia
Beauty Therapist
Kasia dreamed of becoming a doctor, unfortunately, life had different plans. After many successful years in the corporate world, she couldn't silence the need for caring for people anymore and retrained as a beauty therapist in 2020. Keen on personal development she continues to study to gain a BA in cosmetology.

Kasia has mastered the Hydradermie Lift treatment and firmly believes that with regular facials you can put of having Botox forever. "The results I can achieve on my clients with the Lift never fail to amaze me" she says, "it's incredible what micro current muscle work out can do to contour the jaw line!"

As someone who's studying cosmetic chemistry as part of her degree, she's always interested in the innovative ingredients Guinot use. Her favourite products are the 3 hero's in Lift Summum range: cream, serum and mask, that help to build healthy collagen.

Her direct no-nonsense approach puts client at the heart of everything she does.